Work for William Mattar Law Offices
William Mattar, P.C. is a growing law firm that focuses on car accident injuries. Our home office is located in Williamsville, NY, and we service areas throughout New York State, including Buffalo, Rochester, Syracuse and Albany.
Award Winning Culture
In 2019, William Mattar was once again named one of Best Companies to Work for in New York for the 3rd consecutive year. Our firm is dedicated to helping people and we understand that starts with how we treat each other. William Mattar is proud to be recognized for fostering a positive work environment.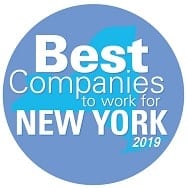 View Our Law Job Openings
"We have a culture of appreciation for each other, our clients and the community. Our offices are clean, modern and has state of the art technology. Every month we support our community. There is regular training and if we have questions, others are willing to help."
"The paid time off is a huge perk for an employee here. Allows time for family emergencies and fun. Events that take place throughout the work day-massages, pedicures, thanksgiving feast, FISH games–provides a chance to take a breather and allows us to have some fun while at work."
"The organization gives you all the professional resources and tools needed to succeed. The work environment is excellent and has a strong supportive culture."